The last time I was as at the craft store, I was admiring all the pretty pink and red paper. They screamed
take me home
...so I did. In fact, I almost picked up an entire booklet of scrapbooking paper but was able to restrain myself and, for less than two dollars, I took home a few glittery, gingham and brightly hued papers. They were all perfect for Valentine's Day crafts. Once at home, we decided to make some heart-shaped crafts for Valentine's Day. Here are some of my favorites.
Mixed Media Heart Flowers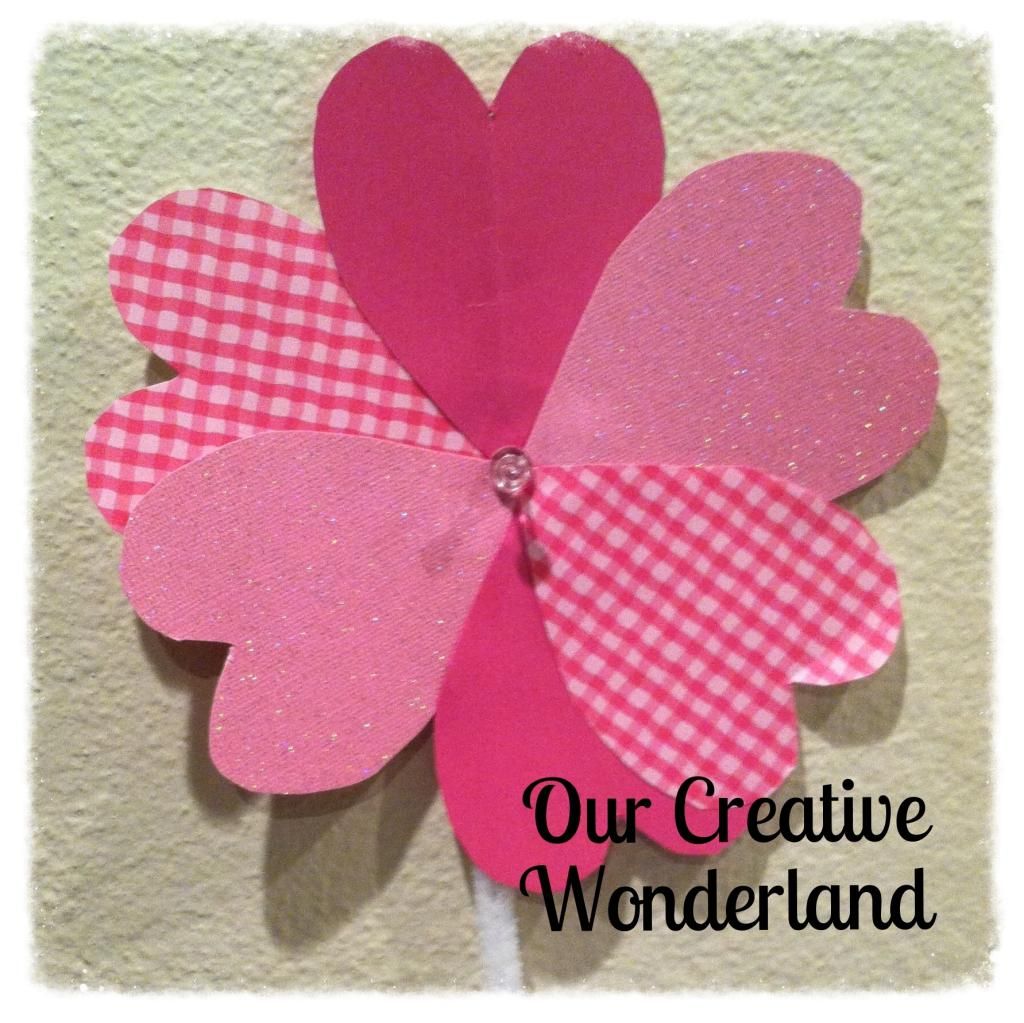 I took three different pink papers. One was a thick, glittery pink. Another was a bright, almost fuschia color and the final one was white and pink gingham. First, I cut out a template heart (or you can use a die cut or paper punch). Then, I used my template to make three hearts in each color. Next, I took a paper plate and cut out a square from it. In an alternating pattern in a flower shape, I took my hearts and glued them into the center of the paper plate square. Finally, I took a white pipe cleaner and taped it onto the back of the paper square. I allowed it to dry. These mixed, media heart flowers are cute for bulletin boards or to decorate a child's room.
Heart People
These are fun for kids to make. First, pick out a piece of sturdy paper to make your heart. Fold the paper in half so both sides are symmetrical (or use a heart paper punch). Then, give your child wiggly eyes, markers, paint and buttons to make a face. Then, take some strips of construction paper and fold it "accordion style" for legs and arms. You can also use pipe cleaners for limbs. Use smaller hearts for hands and feet.
Heart Bookmarks
Take two different colors (preferably white, pink, red or metallic shades) and cut each into identical rectangles. Next, using one of the papers, take a small heart paper punch and make two hearts: one at the top and one at the bottom. Glue the punched out paper onto the second solid paper. Finally, take your punched out hearts and glue onto the empty spaces on the bookmark.
These heart shaped crafts are a fun way to celebrate Valentine's Day!